PROJECT
PROFILE
430 MONROE
Grand Rapids Innovation Park
Grand Rapids, Michigan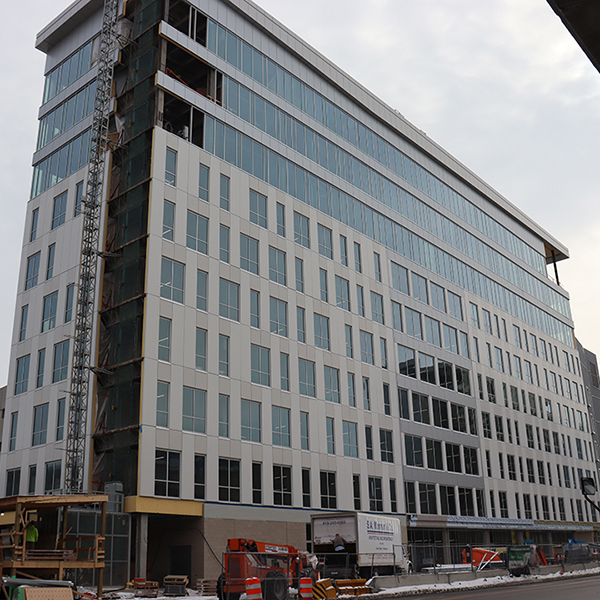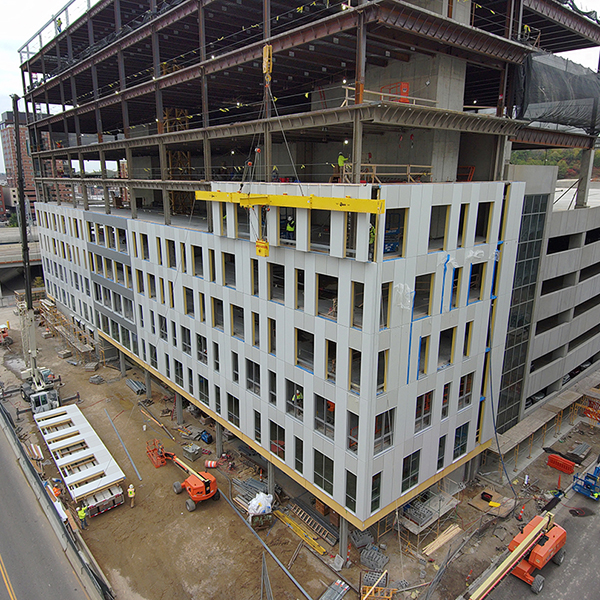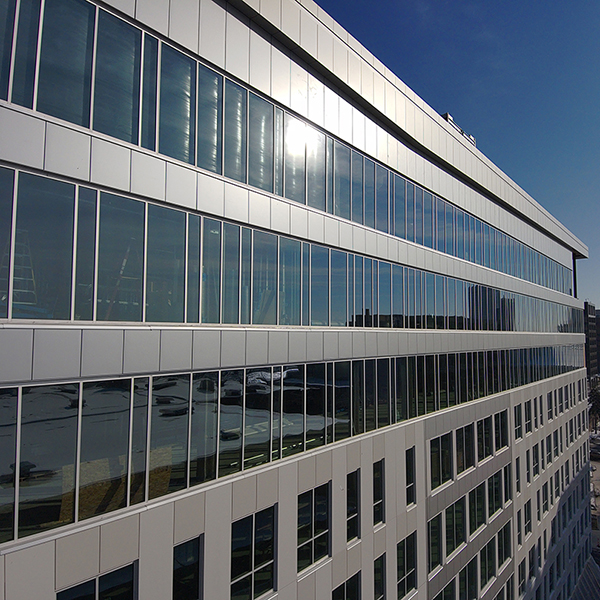 To accelerate the schedule and make it possible to deliver the project in the time frame requested by the customer, Vos Glass, Architectural Metals Inc, Centerline Prefab, and The Bouma Corporation teamed up for a joint venture on the envelope enclosure for the 430 Monroe building that will house Perrigo's new North American Headquarters. A prefab panel approach was used to not only save time, but also to increase jobsite safety by eliminating the need for the use of swingstage and lifts onsite. The system, including joints, was designed so all the installation work was done from the interior floor slabs.
The panels consist of cold-formed metal stud framing with glass-mat sheathing and a liquid-applied air and weather barrier to back up a thermally insulated, metal panel and hat channel finish system creating a rain screen assembly. The parapet cornice is accented with a dimensionally dynamic aluminum composite material that was incorporated into the pre-assembled wall panels. The rough window openings were coordinated for immediate onsite installation by the Vos Glass team once the panels were installed. The 268 panels were installed in approximately 11 weeks, which saved an estimated 6,400 onsite man hours versus traditional construction methods.
Meticulous coordination between our teams was needed to ensure the success of the project. The Centerline and AMI teams worked in the Centerline Prefab facility to complete the panels before delivering them to the site for The Bouma Corporation team to install. To minimize impact on architectural design and create weather-tight joints, some of the 12′ tall panels exceeded 56′ long. Due to the length, these panels had to be specially engineered for shipping, delivery, and installation to compensate for load inversion. The slab-to-slab infill panels needed to create a continuous exterior facade to cover the floor slab edge. Traditional hoisting clips could not be used for installation, and a specialty rigging apparatus was engineered and load tested to hoist the panels utilizing structurally reinforced window headers as the bearing points.
Sto Metal ci Panels
268 Exterior Slab-to-slab Infill Panels
128,622 Total Square Foot Building
11 Stories
12′ High Panels with Some Exceeding 56′ Long
Installed in 11 Weeks